Make your sales meetings easier: compare plans for your clients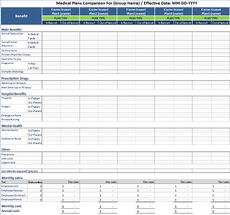 Compare plans quickly and easily
With all these different insurance companies tossing information your way and trying to get your business — it's important to know who's really giving you a deal and who's not. With our free plan comparison excel sheet, you'll be able to:
Compare up to five medical, dental and vision plans at a time across multiple carriers
Evaluate unique plan details such as annual deductibles and out-of-pocket maximums
Calculate monthly rates for employees and families for each plan with a built-in rate calculator
Not only will this help you stay organized, but you will be able to generate reports and visuals to support your decision when selling plans to your clients. Your time is valuable — save it! Download this offer now by completing the fields to the left.